The study of the effects of fishing activities on marine ecosystems has gained a considerable importance during the last years. Indeed, fisheries management has become an essential tool to maximize the productivity of resources under exploitation, and the direct and indirect effects of these extractive activities on other components of the ecosystem (benthos, non-commercial species, marine birds and mammals) have begun to be considered in global management strategies. Knowledge of the structure and dynamics of marine ecosystems is essential for future resource management if, as recommended by the principles of Sustainable Development, a balance between nature conservation and fisheries economical profit is to be maintained.
The global objective of the ECOMARG research team is the integra-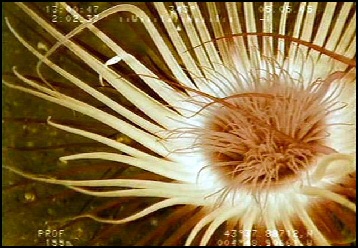 ted study of the benthic-demersal ecosystem in the Galician and Cantabrian Sea continental margins (shelf and slope). It aims to investigate the structure, the components and the dynamic of the Deep-Sea ecosystem (100-1000 m), which is subjected in some measure to numerous human extractive activities. It is also framed within the urgent need to identify, study, and describe vulnerable marine habitats, which are currently more accessible due to the new fishing technologies. These habitats are typically extremely important as a refuge for sensitive species or are essential for juveniles or reproducing individuals of species which are exploited in adjacent areas. At a biological level, the ECOMARG research team is mainly aimed at the study of the fauna which is associated with the sea floor (demersal and benthic), in detriment of the pelagic system, since it is more representative of the particular characteristics of the ecosystem under investigation.


The projects envisions a multidisciplinary approach in which all activities proposed by the different research groups will be designed to inter-relate and complement each other, yielding a characterization of the benthic-demersal ecosystem and its synthesized description using trophodynamic metamodels. The results of these studies intend to generate data and knowledge databases which are essential to bring into operation the integral management models which will become an indispensable tool to implement a sustainable development of fisheries in the marine ecosystem.
Projects approved:
Acronym
Title
Partners
Finantial Institution
Date
Summary
ECOMARG
Study of the asturian marginal shelf ecosystem and impacts of its fisheries .
IEO
CSIC
SGPM (MAPA)
CNRS (France)
01/01/2000
31/12/2005

ECOPREST
Prestige oil spill impacts on shelf ecosistem and fisheries.
IEO
CSIC
SGPM (MAPA)

17/12/2003
16/12/2006

ECOMARG 3
Monitoring the "El Cachucho" Marine Protected Area and vulnerable esosystem identification on Galicia and Cantabrian Sea shelves.
IEO
DGB (MMA)
01/11/2007
31/12/2009
INDEMARES
Inventariación y designación de la Red Natura 2000 en Áreas Marinas del Estado Español
IEO,
CSIC,
DGBio-MARM,
SGM-MARM,
SEO/BirdLife,
OCEANA,
WWF/ADENA,
ALNITAK,
CEMMA,
SECAC.
01/01/2009
31/12/2013
DEEPCON
Estudio de la conectividad entre ecosistemas marinos profundos basado en poblaciones de elasmobranquios
IEO
01/01/2011
31/12/2013

ESMAREC
Evaluación y Seguimiento del Área Marina Protegida de El Cachucho
IEO
01/07/2013
30/06/2015

LIFE IP PAF INTEMARES
Gestión integrada, innovadora y participativa de la Red Natura 2000 en el medio marino español
IEO.
Fundación Biodiversidad.
Ministerio de Agricultura y Pesca, Alimentación y Medio Ambiente.
Confederación Española de Pesca.
SEO BirdLife.
WWF.
01/01/2017
31/12/2024

PhotoMARE
PhotoMARE - Underwater Photogrammetry for MArine Renewable Energy.
Desarrollo de un Sistema Integrado de Fotogrametría Submarina para Cartografía de Alta Resolución de Fondos y Hábitats e Inspección de Instalaciones Sumergidas en Proyectos de Energías Renovables Marinas.
IEO.
Universidad de Cantabria.
eDronica.
CompluTIG.
02/12/2016
02/12/2018